Wednesday, July 17, 2019.
7:00 pm to 8:30 pm at OZS
A special talk by Leigh Files (Ani Samten Chodron) an American Tibetan Buddhist nun living and volunteering in a monastery in Bylakuppe, the largest Tibetan refugee settlement in South India.
Leigh will give a talk about her work teaching English, math, and science to over 120 monks in Classes KG-8; and American standards of hygiene and sanitation, and care for the monastery stray dogs. Her talk will start after Chanting the Heart Sutra and a 25-minute silent meditation. You may donate to Leigh directly in an envelope with her name on it. We accept donations to OZS (the suggested donation for this event is $10.00). Space is limited please RSVP.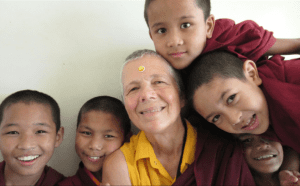 The Puppy Project Rotary
www.facebook.com/puppyprojectbylakuppe/