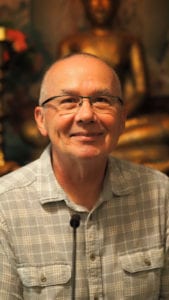 Abbot Will Rauschenberger has been practicing Zen for 30+ years. As a lay Buddhist practitioner, he vows to work for the benefit of all sentient beings.
"As a Lay Zen Buddhist, I have for the last several years been in the privileged position of facilitating zazen and sometimes offering whatever insight I may have into what this is. Sharing one's insight is different than being an expert. There are many sources from which you can conceptualize Zen and have some idea and thoughts about it. However, in my view, Zen is not a concept. Zen is beyond thinking. Reading a sutra or quoting what other teachers have said has it's place. I have many times shared what others have said in order to contribute to a point I was making or to help bring clarity. We look to experts for everything. However, looking outside of ourselves for the answers to what we think we need or want cannot ultimately be fulfilling or bring us satisfaction. True intimacy, being part of this wonderful amazing experience we call life, connected to all of it, comes from insight. Insight comes from "just sitting" and from asking, "What is this?" True insight does not come from knowing, but from not knowing. 

From the point of view of your essence of mind, there is no separation between you and all the Buddhas and Bodhisattvas, past, present and future. The gateless gate is your own mind.  We should all have beginner's mind. Ordinary Zen enables us to experience an extraordinary life."

–-Will Rauschenberger
---
From 1989 to 1998, Will lived at the American Zen College in Germantown, Maryland. Will practiced Zen with Zen Master Gosung Shin, the 77th Patriarch in the Lin-Che lineage of Korean Zen Buddhism.  An azalea garden surrounds a 30-foot pagoda of carved Indian limestone that houses Buddha Sakyamuni's Saria, pearl-like remains of the historic Buddha Sakyamuni. The Saria were donated to the college by the national treasury of South Korea and are the only Saria in the United States. Other buildings on the farm were renovated for dorm and resident space and an art gallery. Will lived in the old Farm House on the property with his family for a decade.  Those formative years laid a strong foundation on which he continues to deepen his practice. In a private meeting with Zen Master Gosung Shin in 2012, Will was given permission to teach meditation.
---
On Sunday September 15, 2019 Abbot Will Rauschenberger was recognized as Dharma Teacher in a special precepts ceremony by Chong An Sunim. Will's Dharma name, Hae An (해안) means ocean-wisdom eye. (His Dharma name was given to him at his first precepts ceremony in October 2013 by Zen Master Wonji Dharma of the Five Mountain Zen Order and will remain his Dharma name.)