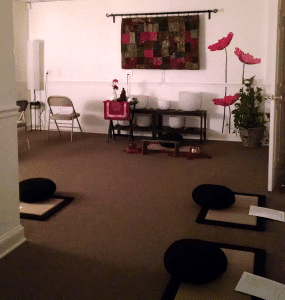 Join OZS each Sunday evening in downtown Sarasota for Group Zazen (Meditation). See the calendar on the website for any cancellations or changes to the schedule. No experience is necessary and all are welcome. A donation is not required to participate, however, a voluntary donation (suggested $5.00) will help defray our costs. Wear comfortable loose-fitting clothing. We have some cushions (zafus) and chairs, however, if you have your own zafu, we encourage you to bring your own. We recommend you arrive at least 15 minutes early if you need instruction (See "How to sit for Zazen").
How it works: The doors open at 5:30 pm and the practice session begins promptly at 6:00 pm with the chanting of the Heart Sutra. We then sit in zazen for twenty-five minutes, do a walking meditation for five minutes, and another twenty-five minutes of sitting in zazen. After the last sitting, we serve tea and have a brief discussion related to our practice. We usually finish up by 7:30 pm.
Address: Integrated Healing Arts, 1718 Main Street #310 (Iberia Bank Bldg-enter in the back)
You may contact me here for more information and to RSVP.
Zazen is a particular kind of meditation, unique to Zen.
There are many different ways to study the Buddha Way. Some study primarily the moral precepts and some emphasize academic study. In Zen, the emphasis is on zazen. It is the core of the whole practice. Zazen has the appearance of being meditation, and we often call it meditation. However, it is not contemplation or introspection. Zazen is sitting Zen. It is said that zazen is the study of the self. Master Dogen said, "To study the Buddha Way is to study the self, to study the self is to forget the self, and to forget the self is to be enlightened by the ten thousand things." Upon his enlightenment, Buddha was seated in meditation; Zen practice returns to that same seated meditation over and over again. For over 2500 years that meditation has continued, from generation to generation. It is a very simple practice. However a description of what zazen is just won't cut it, it takes doing in order for you to realize it.